Cioppino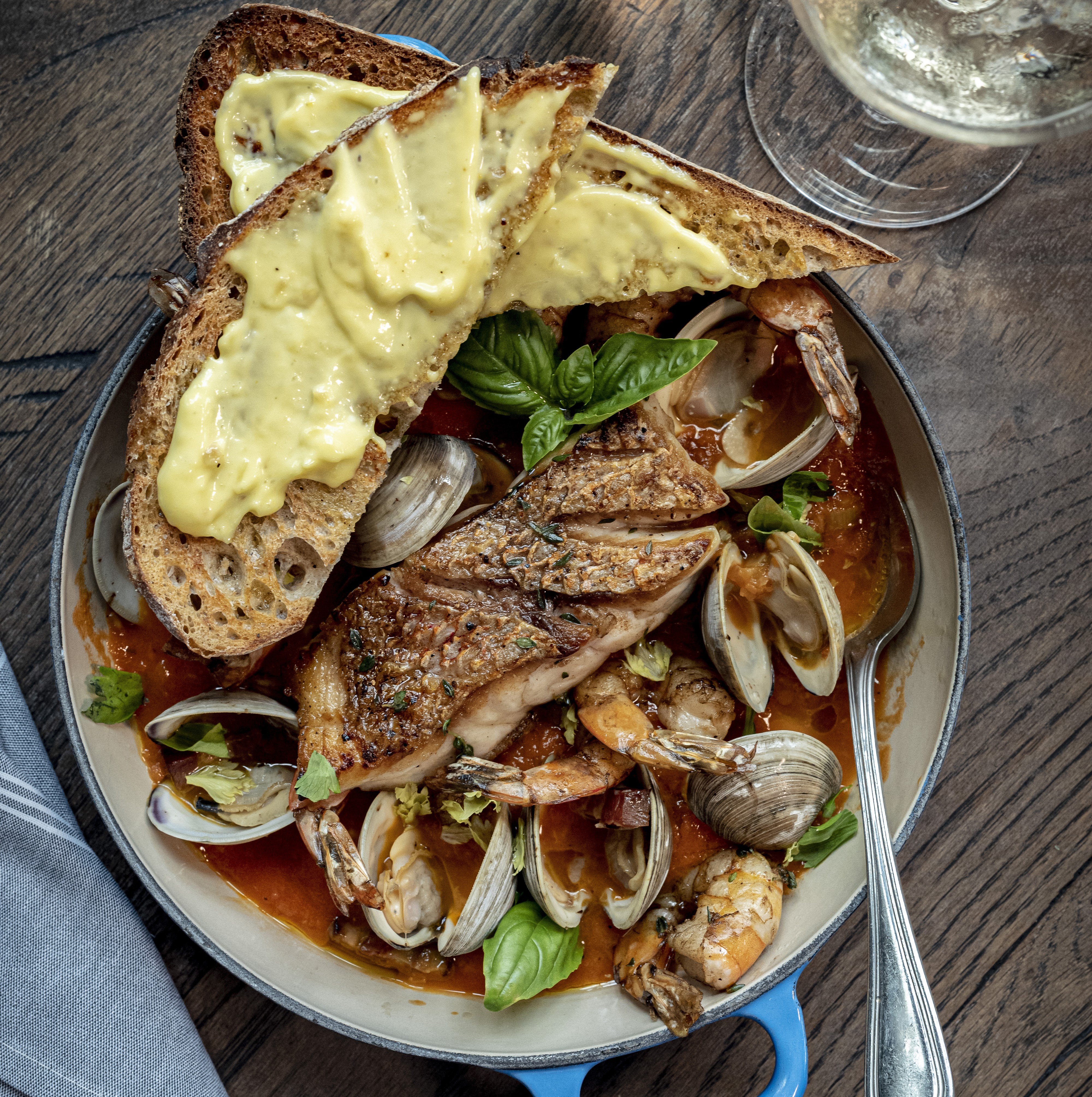 3 tablespoons of olive oil
1 cup small-diced fennel bulb
1½ cups small-dice yellow onion
½ cup small-dice celery
2 tablespoons minced garlic
½ teaspoon red pepper flakes
One 28-ounce can San Marzano tomatoes
4 cups fish fumet
½ half cup Pernod 
1 cup dry white wine
Kosher salt to taste
Ground black pepper, to taste
1 pound snapper, cut into large pieces
1 pound large shrimp, peeled and deveined
2 dozen littleneck clams, steamed
¼ cup roughly chopped basil, for garnish
¼ cup roughly chopped flat-leaf parsley, for garnish
Extra-virgin olive oil, for garnish
Toasted sourdough bread slices
Saffron aioli
This recipe puts Feast of the 7 Fishes into one perfect dish! The classic Italian-American seafood stew shared by NC Catch Chef Ambassador William Dissen, who Gordon Ramsay called "one of the best chefs in the country," includes snapper, but you may substitute any medium-firm, lean fish that is in season. As Chef says, "Make sure you source the freshest and most sustainable North Carolina seafood, and make sure you ask where your seafood comes from when you're buying from the grocery store or your fishmonger."
INSTRUCTIONS:
In a large dutch oven, heat the olive oil over medium high heat. Stir in the fennel, onion, and celery and cook until translucent and tender, about 5 minutes.
Stir in the garlic, red pepper flake and cook for about 2 minutes, or until fragrant.
Next, stir in Pernod and white wine, bring to a simmer and reduce by half. Stir in the tomatoes and fish fumet. 
Bring to a simmer and allow to cook uncovered for about 25-30 minutes, stirring occasionally.  Use an immersion blender, and puree to a rustic consistency.  Season the cioppino with kosher salt and black pepper to taste. 
Add the snapper and shrimp and bring to a simmer again. Lower the heat to medium low, cover and cook for about 5 minutes, or until the seafood is cooked through. 
Stir in the steamed clams. 
Adjust the seasoning as needed and serve immediately.
Ladle the cioppino into large, shallow bowls, and drizzle with the olive oil and garnish with the chopped basil and parsley. Serve with toasted sourdough smeared with saffron aioli.
Serves 6.
Source: Chef William Dissen