Outer Banks Shrimp Pasta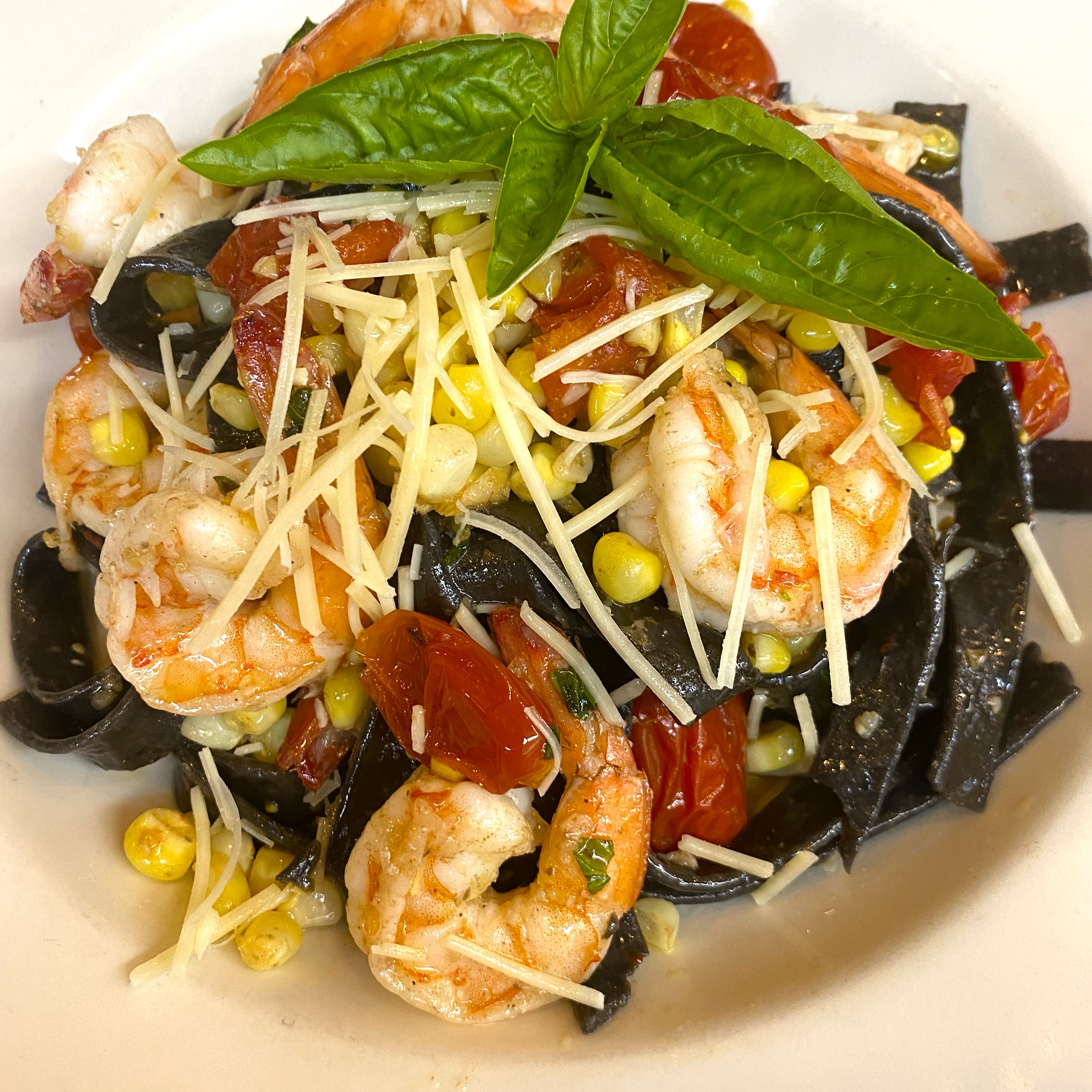 1 cup grape tomatoes, cut in half crosswise
1 tablespoon olive oil
Pinch of cracked black pepper
1/4 teaspoon salt
1/2 pound squid-ink or regular tagliatelle pasta
3 tablespoon butter
1 pound North Carolina shrimp, peeled and deveined
1 clove garlic, minced
1 cup sweet corn, cut fresh from the cob or frozen and defrosted
2 tablespoons coarsely chopped fresh basil leaves
Salt and pepper, to taste
Grated parmesan cheese
Fresh whole basil leaves
Chef Susan Peele of famous Basnight's Lone Cedar Cafe on the Outer Banks tosses plump shrimp with fresh basil, corn and tomatoes. Perfect for a backyard dinner with friends. Peele doubles the seafood flavor and visual drama with black squid-ink pasta but using regular pasta is just fine too.
Procedure: Preheat oven to 325 degrees.
Spread tomatoes on a medium sheet pan. Drizzle with olive oil. Sprinkle with black pepper and salt. Roast tomatoes in preheated over for 30 minutes. Remove tomatoes from the oven and set them aside in the pan.
Heat a large pot of water on the stove. When water comes to a boil, add pasta and cook until al dente.
While pasta is cooking, place a large skillet over medium-high heat. Add 1 tablespoon of the butter to the pan. When butter has melted and is sizzling, add shrimp to the pan. Don't overcrowd the skillet. Shrimp should saute, not steam. Cook shrimp in two batches if necessary. Remove 8 to 10 shrimp and set aside. Adding all the remaining cooked shrimp back to the skillet before proceeding with the recipe.
Add garlic, sweet corn, tomatoes and salt and pepper to the pan. Toss lightly with the shrimp. Add basil to the pan and remaining butter to the pan. Toss again.
Drain pasta and add to the pan, gently tossing with shrimp and vegetables.
Divide pasta among plates. Arrange two or 3 of the shrimp that were set aside on each serving. Sprinkle pasta with parmesan cheese. Garnish with fresh basil leaves.
Makes 4 servings.