Chef William Dissen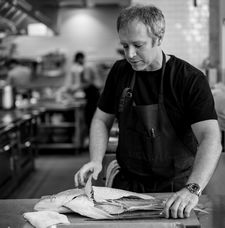 Noted as one of "best chefs in the country" and one of "the most sustainable chefs on the planet" by none other than world-famous Gordon Ramsay, Asheville chef William Dissen takes his seafood seriously.
If it's not in season and if the species is threatened, you won't find it on Dissen's menus.
At his restaurants, The Market Place in Asheville ; Haymaker Restaurant in Charlotte ; and Billy D's Fried Chicken at the North Carolina Zoo in Asheboro, Dissen is devoted to serving what can be grown, harvested and foraged locally.
"My thought was if we are going to make sure we're sourcing sustainable agriculture for our menus, we also need to make sure we're having sustainable seafood on our menus," Dissen said.
Named a Seafood Watch Ambassador in 2009 by the Monterey Bay Aquarium and seated among leading chefs on the aquarium's Blue Ribbon Task Force for his use of sustainable seafood, Dissen tracks fisheries management. If scientists deem a species overfished, Dissen looks for wild-caught or farm-raised alternatives.
Selected as Fortune Magazine's Green Chef of the Year in 2012 and 2013, Dissen credits his grandparents for his commitment to local, sustainable foods. Growing up in the Appalachian region of West Virginia, Dissen spent a lot of time on their small farm. He shucked corn with his grandmother and strung green beans to dry. Dissen watch as she canned vegetables. The family relished her fluffy biscuits slathered with sour corn relish or homemade jams.
"She cooked with so much love and super fresh products. That really imprinted on me what real food is and how you feel when you eat whole, fresh foods," Dissen said.
The chef was a teenager when he started as a restaurant dishwasher. He worked his way up to the sandwich/salad station and continued cooking during college. Realizing he liked cooking, Dissen ended up at the Culinary Institute of America and then acclaimed San Ysidro Ranch in Montecito, Calif. Dissen was the fish chef. That's when he gained deep respect for seafood.
"All the seafood, access to fresh, really imprinted on me, as well flavor, how you source it, how delicate it is to take care of it," he said.
Dissen's favorite N.C. seafoods are roe shrimp, which are spring white shrimp that have recently spawned. "They're just so sweet."
He also loves soft-shell crabs, available in spring and fall. "We'll put them on the wood grill or we'll dredge them off in cornmeal and pan-fry them or make a tempura batter and fry them. They're sweet and crunchy and just like the essence of crab."
One of Dissen's recent seafood creations was pan-roasted black grouper with a complex corn succotash. He sautéed roasted and pickled corn with peaches and long, thin-skinned Jimmy Nardello Italian peppers known for their robust flavor.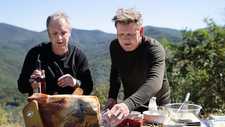 Dissen met Ramsay in July 2021, when Dissen was featured on "Uncharted," Ramsay's show on National Geographic TV. The chef introduced Ramsay to Smoky Mountains food culture and challenged him to a cooking contest. Dissen won with pan-roasted rainbow trout he stuffed with lemon and thyme and served over roasted squash puree. Fresh salsa verde and trout roe were other parts of the dish. In a nod to his heritage, Dissen also prepared sour corn and crawfish relish served over griddle cakes made with cornmeal, buttermilk and leftover rice.
The win was satisfying, but more important to Dissen was Ramsay's recognition that Appalachian food culture is rich and the quality of local foods matter.
Dissen wants people to feel the same way about seafood.
"My hope is really that people will start to recognize flavor and say, 'Well, why does this taste better?' I want people to say 'I didn't realize food could taste that good,'" he said.
"That's where I can swoop in and say 'It's because we're using fresh, local, North Carolina seafood. It's fresh, in season. It came out of the water yesterday, and it's supporting the local economy. And at the end of the day, you know what, it tastes better.'"
Events
10:00am - 4:00pm
Morehead City, N.C.
4:00pm - 7:00pm
Harkers Island, N.C.
9:00am - 4:00pm
Ocracoke Island, N.C.