Grouper & Sea Scallops with Chablis Dill Sauce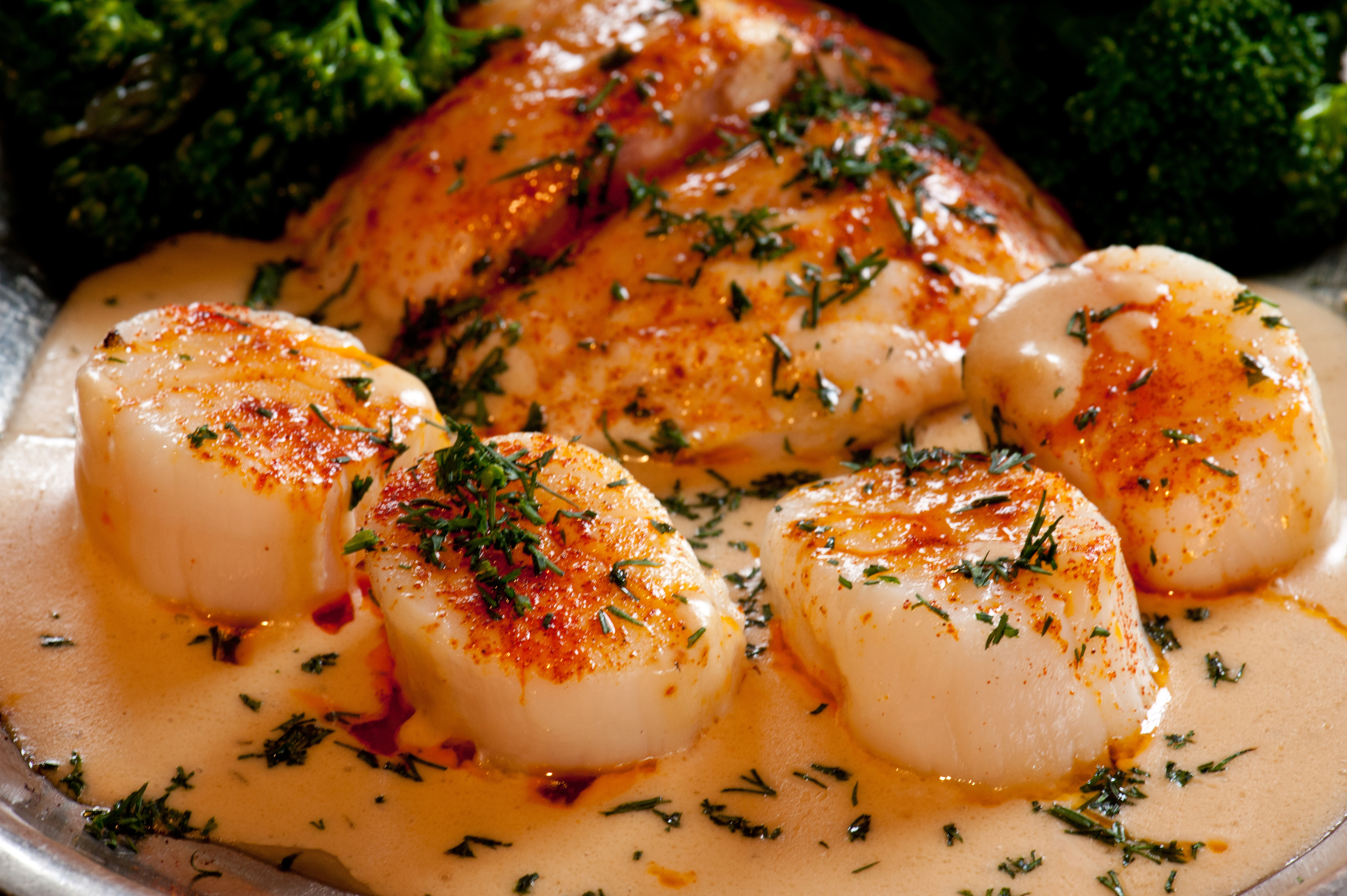 6 10-count Carteret Catch sea scallops
2 5-oz. grouper fillets
3 large shallots finely chopped
2 bay leaf
2 T crushed black peppercorns
1 T chopped fresh garlic
Thyme Leaf Sprigs
2 leaves of fresh basil
1 T chopped garlic
3 cups Chablis
2 cups cider vinegar
3 cups heavy cream
1/2 cup fresh finely chopped dill
2 T clam base or reduced clam juice
1 lemon cut into wedges
2 T unsalted butter (optional)
Seasoned salt (salt, pepper, granulated garlic) and Paprika
Chablis Dill Sauce:
In medium saucepan over high heat, add all ingredients except dill, cream and butter. Bring to boil and reduce until almost all liquid is evaporated making sure the mixture does not scorch.
Add the cream and bring to broil over medium heat. Reduce heat to low and simmer for 10 minutes. Remove from heat and strain sauce into another saucepan using a wire mesh strainer for a smooth texture. Return sauce to low heat and simmer additional 5 minutes. Add dill and remove from heat. Blend in softened butter with wire whip prior to serving (optional).
Grouper and Sea Scallops:
Place Carteret Catch grouper & sea scallops on buttered cookie sheet. Sprinkle seasoned salt & paprika. Bake for 5-8 minutes. (Make sure oven is @ 450°)
To serve: Place grouper & sea scallops on plate and dress with Chablis Dill Sauce. Serves 2.
NC Catch Exclusive Recipe:
Bistro-by-the-sea a member of Carteret Catch
4031 Arendell Street
Morehead City, NC
(252) 247-2777
Chef Tim Coyne