Tuna Poke with Pineapple & Jalapeno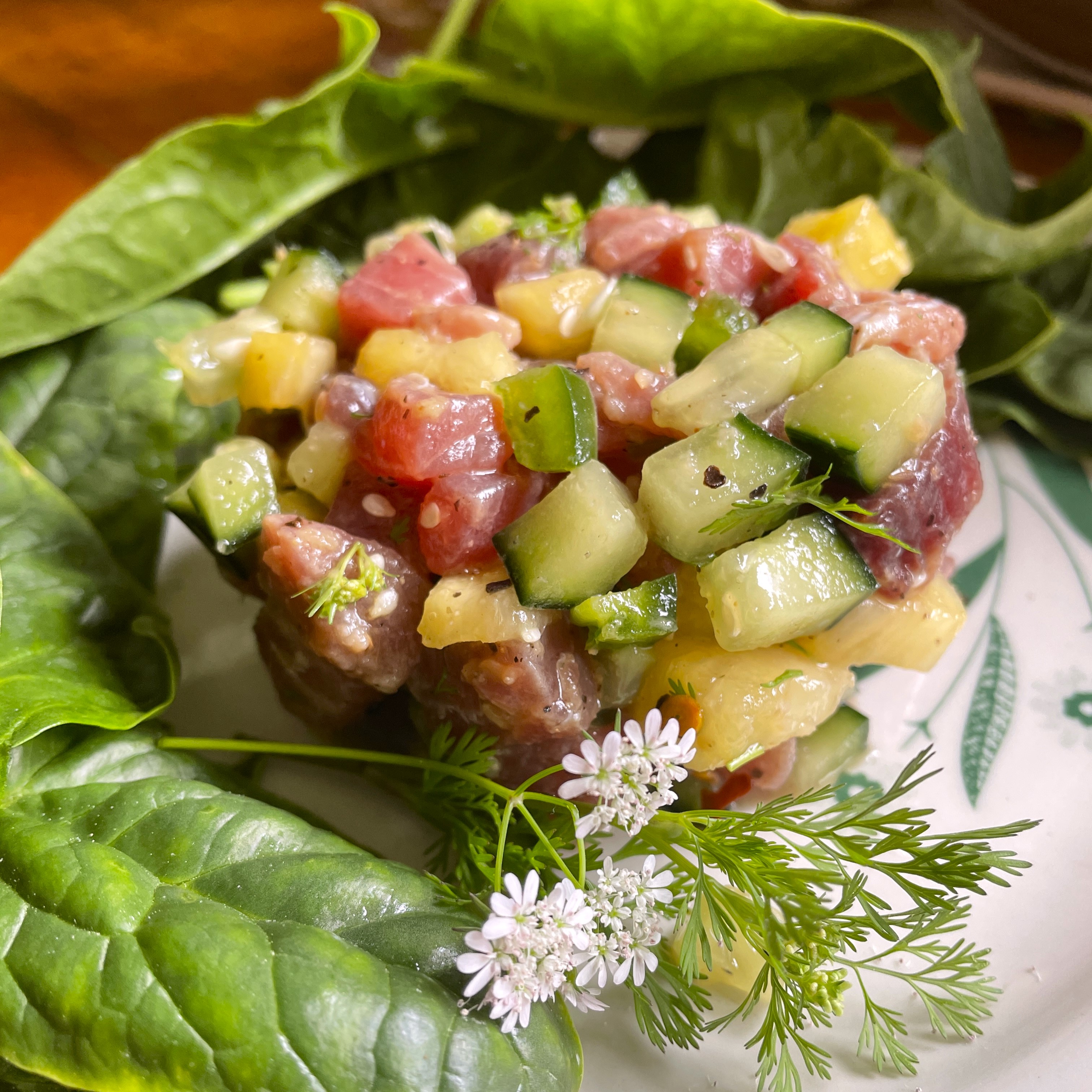 1 pound finely diced fresh North Carolina tuna
2/3 cup diced pineapple
3/4 cup diced cucumber (seeds removed)
1 tablespoon finely diced jalapeno
2 teaspoons grated ginger
1 clove grated garlic
1 tablespoon Seaview Crab Company Poke Seasoning
Juice of 2 limes
1 tablespoon soy sauce
1 tablespoon sesame oil
Fresh cilantro, chopped
Not your typical tuna poke bowl. Fresh pineapple and bright jalapeno give this fancy looking take a spicy sweet personality and lots of color. North Carolina commercial fishing crews head off the Outer Banks for tuna from late fall to early spring. They bring home some of the most coveted tuna in world. Strict regulations govern tuna fishing and the sale of tuna. We found the gorgeous tuna for this recipe at Fresh Catch Seafood in Wanchese. To make preparation recipe extra-easy, we used Seaview Crab Company Poke Seasoning with seaweed, red pepper, ginger, sesame seeds and a secret spice blend, but you can experiment with your own blend. Keep leftover poke in a covered bowl in the coldest part of your refrigerator for up to two days.
INSTRUCTIONS:
Place tuna, pineapple cucumber and jalapeno into a large bowl.
In a small bowl, whisk together ginger, garlic, poke seasoning, lime juice, soy sauce and sesame oil. Pour the dressing over the tuna mixture in the large bowl.
Gently toss tuna mixture and dressing. 
Serve poke over rice or salad. Garnish with chopped cilantro to taste. Alternately, spoon poke into a tall ring mold or biscuit cutter set on a plate. Gently lift the ring. Surround poke with fresh greens and cilantro leaves.
Makes 8 servings.
Source: Liz Biro