Grilled or Broiled Oysters with Carolina Treet Butter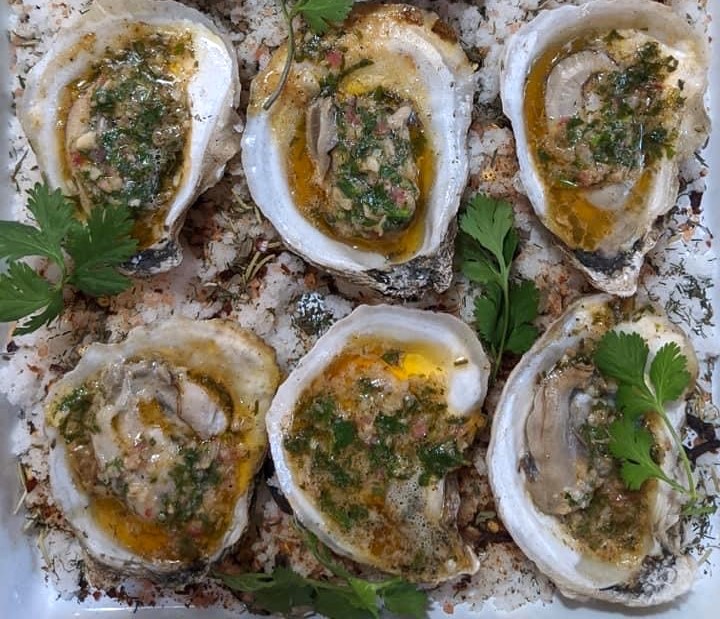 8 tablespoons unsalted butter, softened
2 tablespoon Carolina Treet Cooking Barbecue Sauce
1 tablespoon finely chopped shallots
1 tablespoon finely chopped garlic
2 tablespoon fresh lime juice
2 tablespoon finely chopped cilantro
24 raw oysters on the half shell
Salt and pepper to taste
"I wish more people would grill or broil oysters," Chef Ricky Moore says. "It's so easy, and the
quick blast of heat concentrates the oysters'natural briny flavor." Grill or broil Moore's recipe for these buttery oysters.
INSTRUCTIONS:
Combine the butter, Carolina Treet sauce, shallots, garlic, lime juice, cilantro, salt and pepper in a small bowl and chill.
Prepare the grill or preheat the broiler for high heat.
Top each oyster with a dollop of the chilled butter. Place the oysters, shell down, on the grill or the broiler and cook for 3-4
minutes.
Carefully remove the hot oysters with a pair of tongs or a wide metal spatula and arrange them on a plate to serve. Caution: The shells
will be very hot!
Makes 8 servings (3 oysters per person)
Source: NC Catch Chef Ambassador Ricky Moore of Saltbox Seafood Joint
Photo: Saltbox Seafood Joint