Pimento Cheese Shrimp & Grits with Collards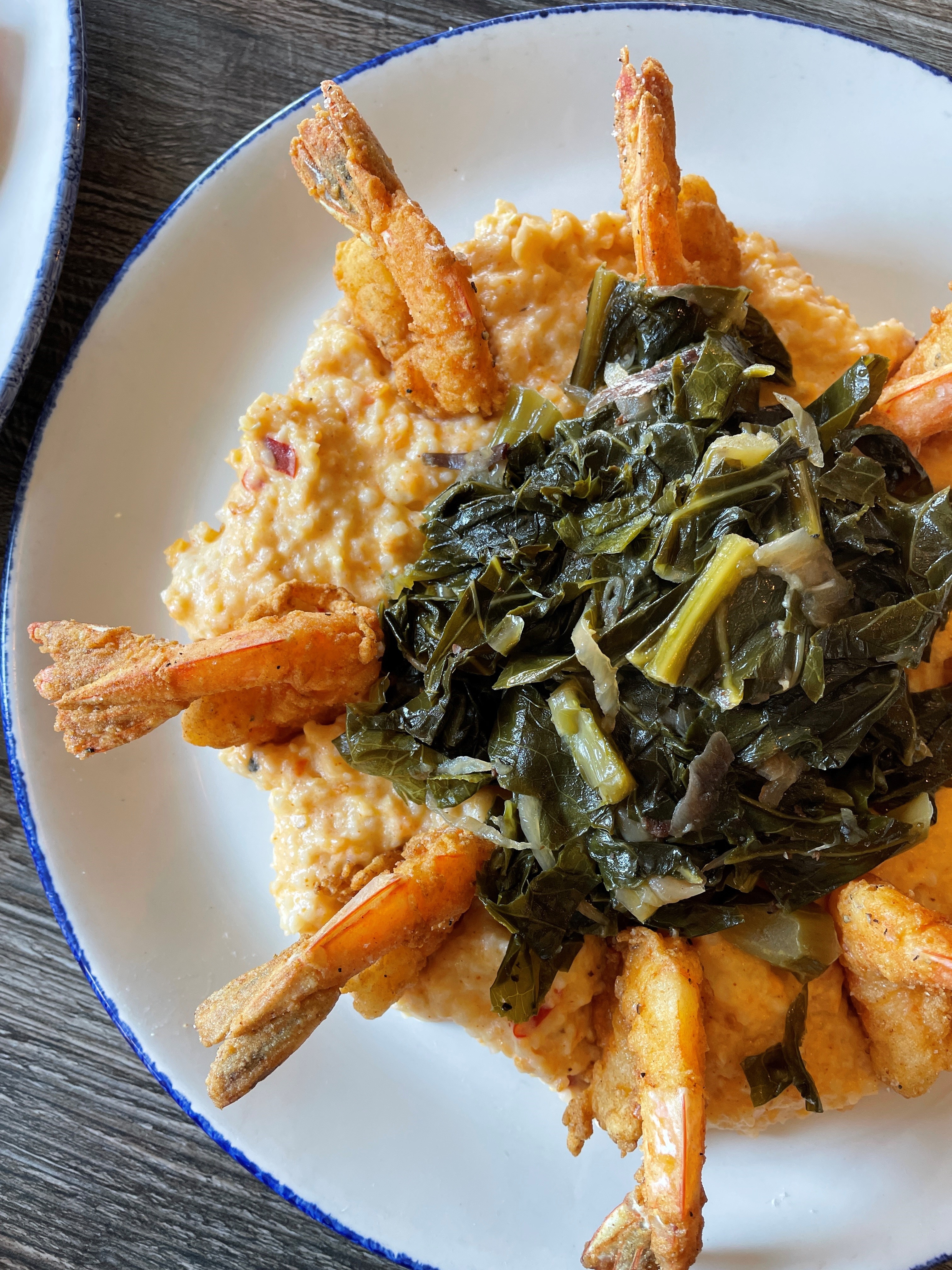 For the collards:
2 pounds of collards, washed and thick stems trimmed
1/4 pound salt pork, cut into 1/4-inch thick slices (see cook's notes)
½ cup water or chicken stock
1 to 2 tablespoons rendered bacon fat
Sea salt
Crushed red pepper
Pinch of sugar (see cook's notes)
For the grits:
3 cups water
1 cup milk
1 teaspoon salt
1 cup yellow or white grits
1 cup prepared pimento cheese
For the shrimp
1 batch of Buttermilk Fried Shrimp
Pimento cheese and stewed collard greens transform classic shrimp and grits into an irresistible comfort food for winter weekends. This dish was inspired by a similar one from our South Carolina neighbors at Acme Lowcountry Kitchen in Isle of Palms. The restaurant uses local shrimp for its seven different versions of shrimp and grits. Fry the shrimp, as Acme does, or sauté them in butter or olive oil with garlic and your favorite spices.
Cook's notes: 
Salt pork is salt-cured pork cut from the pig's belly and sides. It is similar to bacon, but fattier and unsmoked. The leaner cuts are called here in the South "steak o' lean." Fatback is different from salt pork in that it is unsalted. Salt pork is available at most supermarkets.
Southern cooks might add a pinch of sugar to the collards while their cooking or near the end of cooking to help temper the vegetable's bitter flavor. You don't want to taste the sugar, so add pinch and taste to determine if more sugar is needed.
Fresh shrimp are available from North Carolina waters between spring and early winter, but locally caught frozen shrimp work well in this recipe too. Use medium or large shrimp.
Directions:
Prepare the collards: Stack collard leaves, roll and slice into ½-inch-wide strips. Set aside. Place a stockpot over medium-low heat. Place salt pork in the pot and slowly cook until fat has been rendered and pork is crisp. Remove the meat or leave it in the pot. Add chicken stock to the pan and then the collards. When collards are just wilted, add the bacon grease. Season greens with salt and crushed red pepper to taste. Simmer collards, covered, until tender, about 2 hours.
Prepare the grits: Combine water, milk and salt in a medium saucepan and bring to a boil over high heat. When water comes to a boil, slowly sprinkle in grits, whisking constantly. Return mixture to a boil and then reduce heat to low. Cover the pan and cook, whisking and scraping bottom well every 3 minutes. Cook grits for about 30 minutes or until they have thickened, are only slightly runny and have become tender but with a bit of grainy texture. Remove pan from the heat and stir pimento cheese into the grits. Cover and keep grits warm while preparing the shrimp.
Prepare shrimp: Make 1 batch of the Buttermilk Fried Shrimp recipe in the NC Catch recipe archives.
Finish the dish: Set out 4 wide, shallow bowls. Evenly divide grits among the bowls. Top grits with ½ to ¾ cup of collards, drained. Arrange an equal number of fried shrimp around the collards.
Serves 4.