Spanish Dancers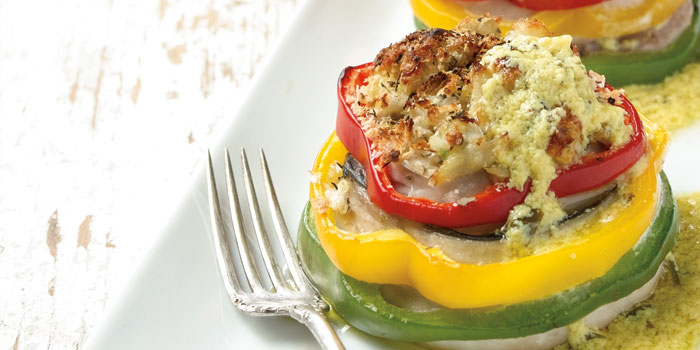 6-8 fish filets skinned and boned about 708 inches long but not too thick
1 pound of lump crabmeat
1/4 C sweet onion, finely chopped
1/4 C roasted sweet yellow bell pepper, finely chopped
1/4 C celery, chopped
1/4 C peacans or macadamia nuts, chopped
1/4 C mayonnaise
1/2 C seasoned breadcrumbs
1/2 C grated Parmesan cheese
1/2 C cooked sausage (optional)
1 egg
1 Tbsp flat leaf parsley, chopped
2 Tbsp white wine
Salt and pepper to taste
1 extra large red bell pepper, green bell pepper and yellow bell pepper each sliced in 6 rings 1/4 inch thick
Combine the crabmeat with the next 12 ingredients in a large bowl. Carefully roll the fish fillets so the tail just overlaps the other end and forms a hollow ring. Secure the two ends with a toothpick. Place them evenly on an oiled, nonstick cookie sheet. Fill the centers with the crab stuffing, and slowly slide the 3 colored pepper rings over each roll to hold them together. Pull out the toothpicks once the rings are in place. Wipe a little mayonnaise or olive oil around the outside and top of each roll-up to keep them moist. Sprinkle with breadcrumbs. Bake for 10 to 12 minutes at 350˚ F then quickly broil to brown the tops.
Recipe provided by Kevin McCabe. Photo of finished dish courtesy of Matt Hulsman (dcubestudios).
McCabe is the author of "25 Secrets Revealed: A Culinary Tour"
The book includes personal stories that influenced each of the recipes found in McCabe's cookbook. The Spanish Dancer recipe pairs nicely with McCabe's tarragon lime sauce or peanut sauce. The recipes can be found in his cookbook.
To purchase McCabe's book visit www.duckscottage.com
The book is illustrated by McCabe's wife, Outer Banks artist Kim Mosher.