Jumbo Shrimp Stuffed with Crab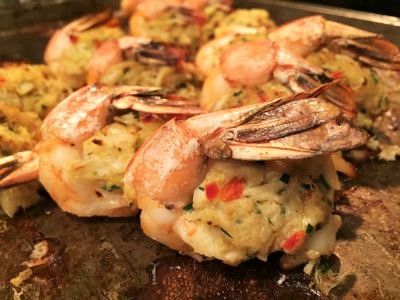 2 pounds jumbo N.C. shrimp (8- to 10-count)
1 pound unpasteurized N.C. blue crab meat, lump, claw or a combination of both
2 tablespoon minced parsley
1 tablespoon minced red bell pepper
2 teaspoons lemon zest
1 teaspoon Worcestershire sauce or horseradish
1 teaspoon Dijon mustard
Dash of hot sauce
2 tablespoons mayonnaise
1 egg white
Butter or vegetable oil
Lemon wedges
Tender, buttery shrimp hugging sweet crab is the ultimate pairing. Bake the shrimp in the oven or on a covered grill. Served them with a simple salad. 
Instructions: Peel the shrimp, leaving the tails intact. Devein, butterfly and refrigerate the shrimps.
Pick stray shells from crab meat. Lightly toss in parsley, red bell pepper and lemon zest into the picked crab meat. In a small bowl, blend together Worcestershire sauce or horseradish, Dijon mustard, hot sauce, mayonnaise and egg white. Stir lightly into crab meat.
Grease a large baking sheet with butter or vegetable oil. Shape a tablespoonful of the crab mixture into a small ball and place on a single shrimp. Curl the shrimp's tail over the crab filling. Stand the shrimp, tail up, on the baking sheet. Continue with remaining shrimp. At this point, the stuffed shrimps may be covered and refrigerated for several hours.
Preheat oven to 375 degrees. Bake the stuffed shrimp uncovered in the preheated oven for about 15 minutes, until the shrimp are pink and the crab meat is heated through. Alternately, cook the stuffed shrimp on a fine-mesh or foil-lined grate on a hot, covered grill.
Serve stuffed shrimp with lemon wedges.
Serves 6 to 8 people.