Shrimp Salad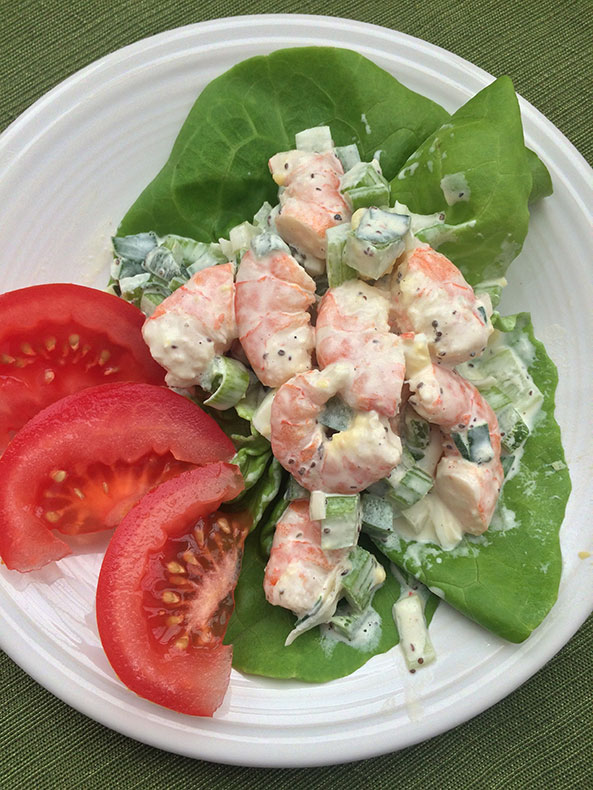 1 pound NC shrimp, cooked, peeled and deveined
2 green onions, chopped
1 cup chopped celery
1 green or red bell pepper, chopped
2 hard-cooked eggs, peeled and chopped
2 teaspoon capers
2 marinated artichoke hearts, drained and chopped (optional)
1 cup mayonnaise
2 teaspoons lemon juice
1 teaspoon celery seed
Salt and black pepper to taste
Lettuce leaves and tomato quarters
Cut the peeled and deveined shrimp into 2 or 3 pieces, depending on the size of the shrimp. Place in a large bowl. Add the onion, celery, bell pepper, eggs, capers and artichoke hearts, if using, then toss to combine.
In a small bowl, stir together the mayonnaise, lemon juice, celery seed, salt and pepper. Pour over the mixture in the large bowl and toss to combine. Cover and refrigerate until chilled.
Serve atop fresh lettuce leaves with tomato quarters.
This Debbie Moose recipe appears in the August 2019 issue of Carolina Country magazine