Quick Crab and Spinach Lasagna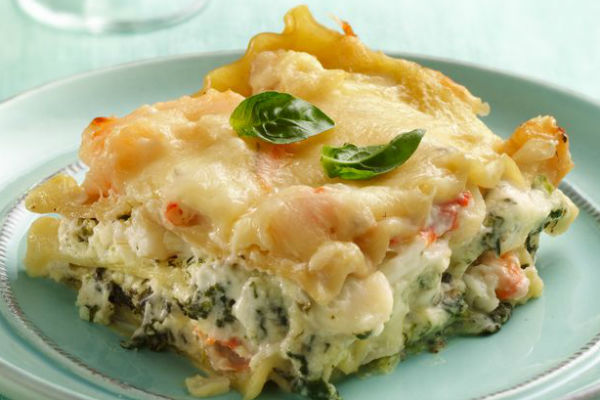 Outer Banks Catch Recipe
For a different take, you can even substitute with shrimp and fish.
Ingredients
9 lasagna noodles
1 can each of cream of chicken soup and half-and-half milk
½ cup chopped medium size onion
1 clove of minced garlic
1 tsp white pepper
3 tbl flour
1 8 oz container of ricotta or cottage cheese
1 package of mixed Italian cheeses
1 cup of parmesan cheese
1 package of frozen spinach
1 lb of cooked crab meat
3 tbl of butter
Assembling the dish
Mix cream of chicken soup, milk, pepper, flour, onion and garlic in pan and bring to a low boil then remove from heat. Stir in well drained spinach and crab meat.
Melt butter in bottom of baking dish, then follow the following steps in order:
Place three cooked lasagna noodles in the bottom of the dish.
Spoon one-third of the spinach and crab meat sauce on the noodles.
Top with one-third each of the ricotta (cottage) cheese, mixed Italian cheeses and parmesan.
Repeat steps 1, 2, and 3 two more times until all ingredients are used. Parmesan cheese will be the last ingredient to be added.
Bake at 375 for 30 minutes. Let stand for 15 minutes before serving.
Click here to read the full article on this recipe.