Ocracoke Shrimp and Mushroom Stroganoff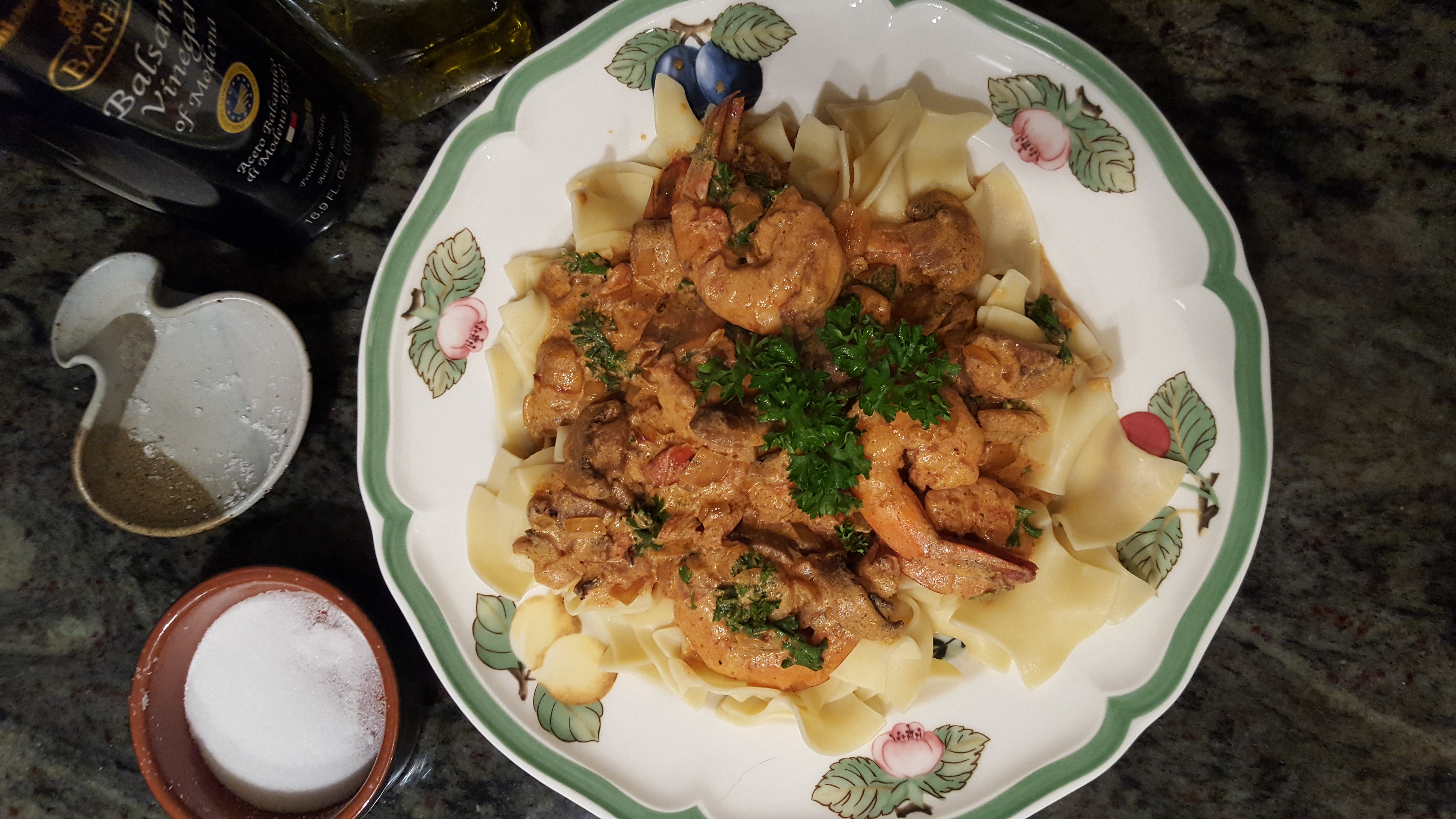 2 tablespoons Olive Oil
½ to 1 pound large shrimp, peeled and deveined
5 + cloves of garlic, chopped
2 – 4 Plum tomatoes, medium chop
½ - 1 small onion, finely diced
½ - 1 pound Mushrooms, sliced
¾ - 1 cup chicken broth
½ - 1 cup sour cream
Salt, pepper
Paprika (Smoked or Sweet or a mix)
Squeeze of tomato paste
Squeeze of Sriracha
Chopped parsley
Your choice of egg noodles (buttered), pasta or rice: cook enough for 2 to 4 portions while making the sauce
Clean and dry shrimp, sprinkle with salt, pepper and paprika, toss to coat.
Use a pan with a lid.
Heat oil in pan, use enough to coat, over medium high heat.
Sauté shrimp with chopped garlic for two minutes, turning shrimp once, remove shrimp to a bowl with tongs so some garlic will stay in pan.
Add chopped tomatoes and onion to pan, add more oil if needed and lightly salt and pepper, sweat with lid on for a few minutes then remove lid, stirring occasionally let vegetables cook down and caramelize over medium heat (about 10 min.). Remove tomatoes, onion and garlic set aside in a bowl.
Add more oil to generously coat the pan before adding mushrooms. Salt, pepper and sprinkle mushrooms liberally with paprika while sautéing for 10 to 15 minutes, watch heat so paprika doesn't burn.
When mushrooms are browned, add a generous squeeze of tomato paste and cook for a minute or two while stirring.
Add chicken broth and deglaze pan.
Stir in tomato, onion and garlic mixture.
Stir in sour cream.
Add a small squeeze of sriracha, stir.
Taste sauce for salt and add if needed.
Sauce should be bubbling but not boiling.
Return shrimp and juices to the sauce, stir in chopped parsley, allow all to cook about 2 minutes so shrimp can reheat and cook through.
Turn off heat.
Spoon over buttered egg noodles, or serve tossed with pasta (penne works really well) or for a gluten free option serve with rice or risotto.
Serves 4
Author's Note:
"A great way to use up your plum tomatoes with fresh shrimp and mushrooms. I adapted this from a basic stroganoff recipe last year when the fresh shrimp were coming in faster than ways I could come up with to cook them....."
Finley Austin, Ocracoke