Clams with Guajillo Chile & Chorizo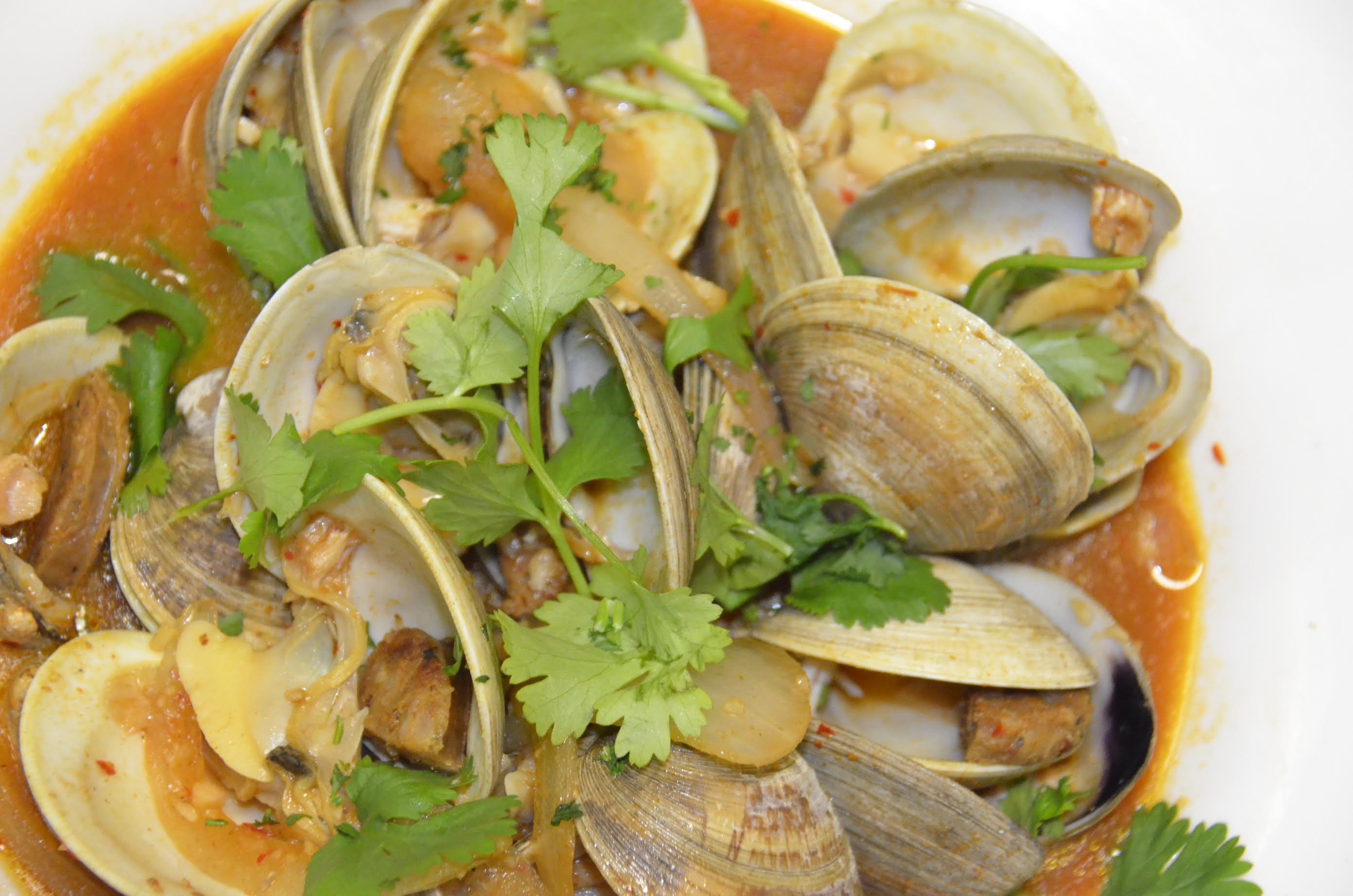 for the chile sauce
4 each dried guajillo chiles
2 tablespoons tomato paste
2 cloves garlic
1/4 onion, rough chop
4 cups vegetable broth
3/4 teaspoon cumin
1/4 teaspoon salt
1/4 teaspoon cayenne
1/4 teaspoon coriander
1/4 teaspoon white pepper
1/4 cup cilantro, stems and all
for the clams
1/3 cup roasted Spanish chorizo (or any type of sausage)
1/2 cup thinly sliced onion
1 teaspoon chopped garlic
12 middle neck clams, triple washed
3/4 cup clam juice
3 tablespoons prepared chile sauce
1 teaspoon butter
fresh cilantro for garnish
Cut the stems off the dried chiles and discard, but keep the seeds. Cut the chiles into 1 inch pieces and put into a small pot with the tomato paste, garlic, onion, vegetable broth, cumin, salt, cayenne, coriander, white pepper and cilantro.
Cover and simmer for 1 hour. It should reduce a little. Puree the mixture in a blender until smooth.
Meanwhile, cook the chorizo in a 350° oven for 30 minutes (or internal temperature of 165°). Slice into ¼" half moons.
For the dish
In a large sauté pan over high heat brown the onion in a little oil. Toss in the sausage and garlic. Add the clams, clam juice and chile sauce. Cover the pan and steam for about 10 minutes or until the clams open. Stir in the butter. Transfer to a bowl and garnish with fresh cilantro.
NC Catch Exclusive Recipe By:
Amos Mosquito's
703 E. Fort Macon Rd.
Atlantic Beach, NC
Chef: Luke Maguire
Amos Mosquito's is a casual, fine dining restaurant overlooking beautiful Bogue Sound. They serve an eclectic menu specializing in fresh, local seafood using locally sourced ingredients and a flair for creating fun and flavorful dishes. They are a member of Carteret Catch.