Stewed Shrimp with Pastry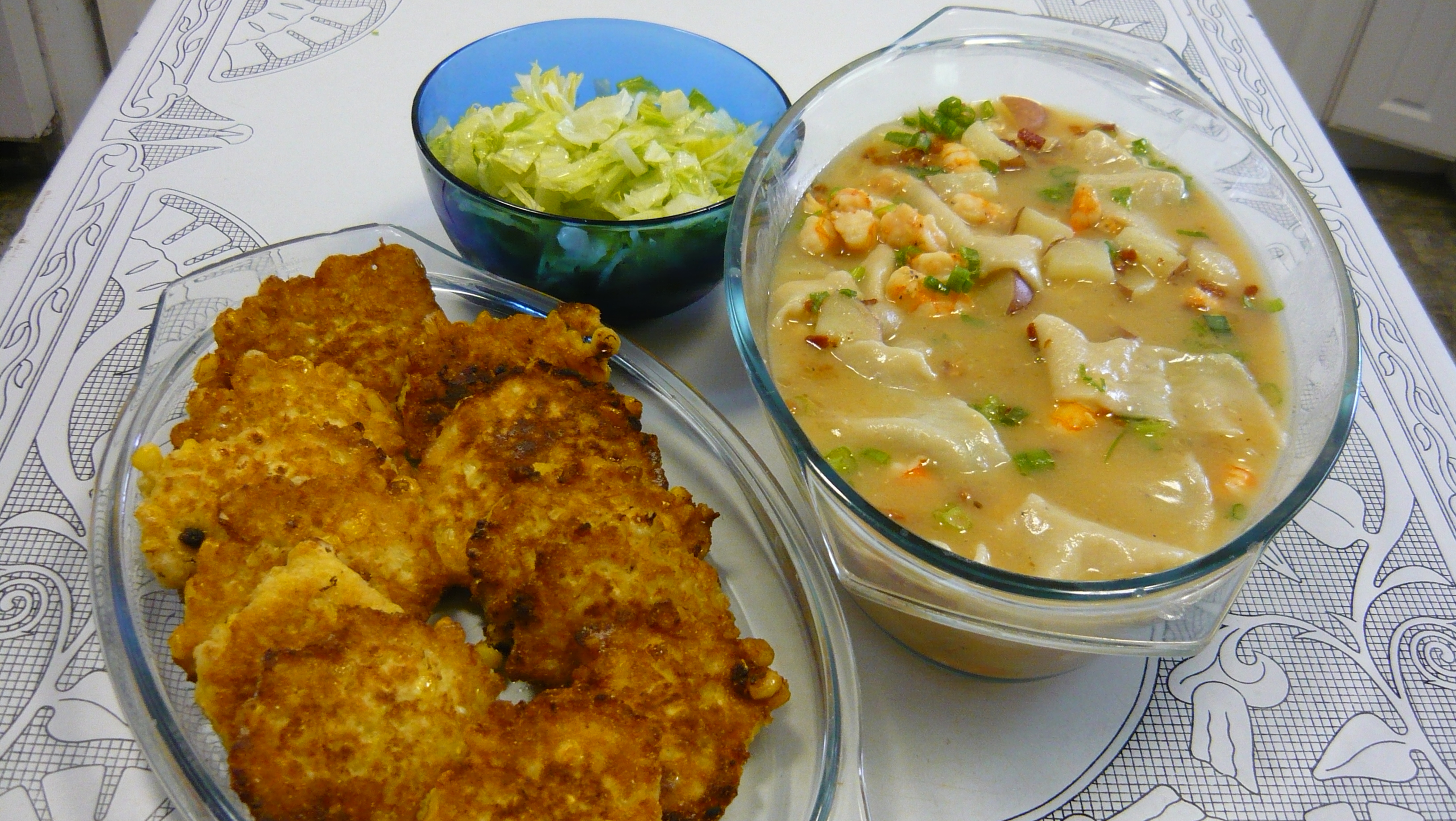 Pastry:
1 1/2 cup flour
3 tsp water
salt and pepper
1 tsp oil
Stewed Shrimp:
1 lb shrimp peeled
3 medium potatoes diced
1/2 cup salt pork diced very small or 2 tbs olive oil
1 small onion large dice
salt and pepper
4 cups water
1/2 cup flour and water slurry
Prepare pastry:
Stir all ingredients with fork until firm and not sticky, adding a little more flour if necessary. Set aside. These will be cooked separately in a medium size pot with 4-5 cups of boiling salted water.
Prepare stew:
Fry out the salt pork in a medium size soup pot, remove bits when crisp brown, pour off some of the oil, add onions cook until tender, careful not to brown, add potatoes, stir around a little bit. Season, add water, bring to a slow boil, stir in some of the slurry, cover let slow simmer about 15 minutes. During this time season the shrimp. Heat olive oil to medium, add shrimp a few at a time careful not to crowd, let brown, remove to a dish, repeat with the rest of the shrimp and set aside. When shrimp have cooled, cut into small pieces. Roll out the pastry very thin, cut into strips or squares and cook in boiling water about 10-15 minutes.
When the potatoes are tender, add more slurry to thicken if needed, stir the shrimp back in and spoon the cooked pastry in. Let this all cook about 5-10 more minutes. Let sit a bit.
Serve with corn cake and pickled lettuce.
NC Catch Exclusive Recipe:
Harbor Deli
Hatteras Harbor Marina, Hatteras Village
252-986-2500
Chef: Sharon Peele Kennedy
Kennedy grew up in a commercial fishing family on Hatteras Island. She is a creative cook at the Harbor Deli, owned by her niece Jennifer Scarborough. Kennedy also hosts a daily consumer education segment featuring local seafood on Max Radio of the Carolinas (Beach104 FM and WCMS Watercountry).