A chef's tips for the best fried shrimp
When hot summer temperatures summon swimsuit-clad crowds to the beach, fried shrimp are what shore-goers crave. Here are tips for frying them at home.
"It's savory, it's salty, it's sweet all at the same time. Once you start eating them, you can't hardly wait for the next bite," professional chef Eric Gephart says of fried shrimp.
Many head to seafood houses, grand restaurants boasting all-you-can-eat popcorn shrimp specials or the lightly breaded morsels called "Calabash-style" fried shrimp.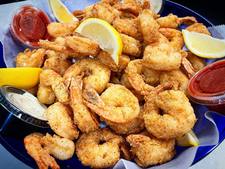 Perfect fried North Carolina shrimp at Sugar Shack Seafood in Nags Head on the Outer Banks. 
Despite fried shrimp's simplicity preparing them at home is an intimidating thought. The process, however, is not difficult, and the results are oh so satisfying.
Gephart, director of culinary inspiration for Kamado Joe ceramic grills,  relies on the Calabash style, understood among chefs and diners to mean lightly breaded.
Most important, Gephart said, is using wild, fresh-from-the-water shrimp. "They're just so darned sweet," he said.
The chef, a North Carolina native who worked for years at restaurants in Wilmington and Wrightsville Beach, N.C., prefers smaller shrimp for frying. He thinks they're more tender and taste better than larger shrimp. At the market, ask for 21-to-25-count shrimp, meaning a pound contains 21 to 25 shrimp. Plan on a quarter- to a half-pound of shrimp per serving.
Smaller shrimp may eliminate the need for "deveining," the removal of the gritty, black intestinal tract that runs down a shrimp's back, Gephart said. The "vein" is less apparent in small shrimp.
Gephart briefly marinates shrimp bound for the frying pan in a combination of buttermilk and hot sauce, which add flavor and whose acids tenderize the shrimp, he said. He lightly dusts the shrimp in a combination of flour and cornmeal or flour and commercial seafood breader. Gephart likes North Carolina's House Autry brand. Too much breading masks shrimp's flavor.
Get Gephart's Buttermilk Fried Shrimp recipe.
"You want to be able to see through the breading and see the actual shrimp," he advised.
Fry shrimp in a heavy, deep cast-iron skillet to retain heat, Gephart suggested. Use canola oil, as it can stand high heats for long periods of time, he explained. Invest in a deep-fry thermometer, available at cookware stores and some supermarkets, as the oil should remain at 375 degrees during frying.
Keeping the stove free of splatters is impossible; frying on a gas cooker outside avoids an indoor mess.
Just a few minutes of frying are required to cook shrimp through. Because shrimp cook so quickly, a helper is handy. As one person removes cooked shrimp from the hot oil, another person breads and adds shrimp to the hot oil.
Once finished, fried shrimp make a delicious soft/crisp element on sandwiches, salads, pasta and risotto, but Gephart doesn't let his creative chef side get the better of his fried shrimp.
"I just set them out on a big platter," he said, "with a little tartar sauce."