5 tips for perfect fried seafood from a master chef
For the best fried fish or shrimp, Salt Box Seafood Joint chef Ricky Moore is adamant: "Let me debunk the myth that frying seafood is a big-time chore. It's easy."
Moore should know. Salt Box is one of the best seafood restaurants in North Carolina thanks in part to Moore's devotion to frying the best fresh, local fish, shrimp, oysters, soft-shell crab and whatever else is in season. Here are his top five tips for how to fry seafood at home.
1. Season just right
There're more to seasoning fish than you think. Season whole fish on the bone with salt and pepper inside and out, as well as inside any scores you cut into the fish to help it cook evenly. If you're frying fillets, skip the seasoning. A well-seasoned breader on boneless fish supplies ample flavor. As for wet batters, they will soak up any seasoning you put on fish's surface. No need to season shrimp or oysters, either, as those have plenty of their own flavor.
2. Choose the best oil
Use fresh, mild-flavored oil that can withstand high heat. "Canola is just as good as any. Avocado or grapeseed are preferences," Moore said. Don't throw away the oil after frying. "That's flavor. For me, it's like lard," the chef said. Use the leftover oil as a base for roux when you're making gumbo or shrimp and grits. Try frying potatoes in the oil, too.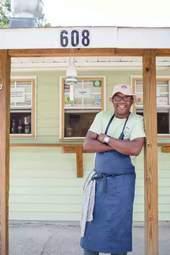 3. Make that breading super flavorful
"It depends on where you grew up," Moore said. Dry breading like cornmeal or a cornmeal-and-flour blend is traditional for whole, small fish like spots and croakers along the North Carolina coast. It works on thin fillets like flounder, too. Season dry breading well with a combination of herbs and spices. "I always think 'How can I make that dredge beautifully seasoned so that you can taste the fish under it,'" Moore said. His favorite seafood breading recipe includes garlic, cayenne, dry mustard and dried parsley.
Wet batters work best on plump fish filets like grouper. Add enough buttermilk or beer to all-purpose flour so that the mixture is a little thicker than heavy cream. Buttermilk adds flavor. Beer's bubbles make batter lighter. Season battered fish after it comes out of the fryer with interesting flavors like flaked salt, pink peppercorns, lemon zest, ground coriander and ground fennel.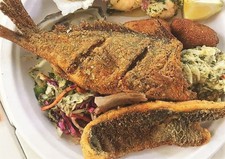 4. Don't just dunk it all
Dunking seafood in liquid like whole milk before coating it in dry breading depends on the seafood. Small, whole fish like spots and croakers don't need dunking. Neither do oysters. A dunk does help breading adhere to shrimp.
5. Plan the layout
Have seafood at room temperature before coating it with breading or batter. Cold seafood will chill hot oil, leading to soggy breading. Lay out the breading station so that seafood can quickly go into hot oil. Have tongs and a spider strainer or a slotted spatula handy for removing seafood from the cooking vessel. Cover a platter with paper towels or set a large rack over a large baking sheet to drain oil from fried seafood once it's out of the pan.