Chef Ashley Christensen
Crab doughnuts, little savory, deep-fried puffs loaded with fresh blue crab and served alongside smoked tomato remoulade.

Carolina mussels, classic-style in white wine cream sauce and a dash of Dijon.
Butter-basted beeliner snapper, with crispy skin, served over potatoes, squash and fennel poached in clam and tomato broth, all finished with bright green parsley puree.
These are just some of the ways celebrated Raleigh chef Ashley Christensen puts her seasonal spin on North Carolina seafood. They're also part of why she has won Outstanding Chef and Best Chef Southeast awards from the James Beard Foundation as well as Eater's Best Chef in the Nation award.
"I'm working on an iceberg wedge salad with heirloom tomato, radish, fried bread crumbs and chives, finished with a 'Louie'-style dressing, spiked with lump crab and tobiko. Simple, but I think it will be really fun for folks," she said.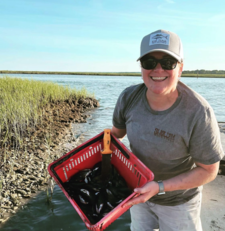 Chef Christensen runs the highly acclaimed Raleigh restaurants Poole's Diner, Beasley's Chicken + Honey, Death & Taxes and Poole'Side Pies." She also operates AC Events, a take-out kitchen named Clubhouse and the cocktail lounge Fox Liquor Bar.
"Across the menus we offer various available North Carolina fish, shrimp, clams, oysters, blue crab -- picked hard-shell and whole softies – and, as of this year, thanks to Ana Shellem, mussels.
"I would say 90-95% of the seafood we serve is North Carolina."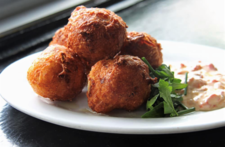 An NC Catch Chef Ambassador since June 2021, Chef Christensen, a Greensboro native, was raised cooking local. "Both of my folks were amazing cooks," she said. "We had huge gardens and practiced preservation from canning to freezing. They cooked most meals, and on weekends, made an all-day production out of it."
"I grew up fishing and eating a lot of seafood at home and at the coast of North Carolina and South Carolina, so it's always felt second nature to connect with seafood as an ingredient. We also have such beautiful produce here in North Carolina with which to complement our seafood."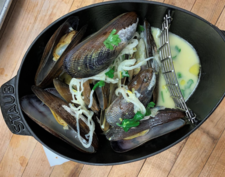 Chef Christensen is not just devoted to fresh, local seafood. She also supports the people who harvest, pack and sell the catch, going so far as spend time collecting mussels with fisherwoman and NC Catch board member Ana Shellem.
"I believe awareness of the challenges of fishing and harvesting needs to increase and be amplified to help support the value of the gifts of our waters," the chef said. "I believe we need to keep pushing our representatives to push agendas that protect our waters and that support our fishermen and fisherwomen."
Follow Chef Christensen on Instagram @ashley_christensen. Find her on Twitter @A______C______ and on Facebook at /ashley.christensen.946
Events
5:30pm - 9:30pm
Harkers Island, N.C.
6:00pm - 8:00pm
Morehead City, N.C.