Another NC Catch Summit in the Books
The sixth annual NC Catch Summit convened in Nags Head March 13-14, adding pre-summit field trips to the agenda. Commercial fisherman Dewey Hemilright provided a guided tour of the Wanchese Harbor while Weeping Radish Brewery Butchery and Pub in Grandy demonstrated how to smoke fish.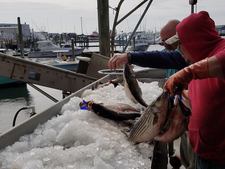 Pre-summit tour
Wanchese Harbor
Outer Banks Catch hosted the opening reception at Basnight's Lone Cedar Cafe featuring local shrimp, tuna bites, crab cakes and homemade desserts prepared by the Stumpy Point shrimpers' wives. Danny Couch entertained the crowd with tales about Dare County's rich commercial fishing history.
The summit was held oceanside at Jennette's Pier. Learning sessions focused on creating compelling narratives that convey to consumers the authentic experiences and livelihoods behind NC seafood. Mike Cashion, executive director of the Mississippi Restaurant and Hospitality Association, talked about development of the Mississippi Seafood Trail, an initiative funded by BP in the wake of the Deep Water Horizon accident. With a coastline that spans only 44 miles, it was critical to develop inland relationships. Initially menu requirements were so stringent that non-traditional restaurants were left out of the mix. The trail modified menu requirements and today one of the most successful participants is a pizzeria offering specialty seafood pizzas.

A banner ad from the Mississippi Seafood Trail
The seafood trail panel also included a discussion of the Virginia Oyster Trail and opportunities that exist in North Carolina for multiple seafood trails in partnership with existing tourism initiatives. A prime example of the opportunity to marry tourism to seafood promotion is Carteret Catch member Hungry Town Tours in Beaufort. Owner David Cartier discussed the success of their NC shrimp and oyster culinary tours that conclude with a parting gift of fresh, local seafood.

Chef panelists included New Bern native Ricky Moore, owner of the highly successful Saltbox Seafood Joint in Durham. Moore routinely serves lesser-known seafood selections like spiny dogfish, ribbonfish and porgy. The key to acceptance, he said, is based on trust between the chef and consumer. The proof is in the online reviews of Saltbox that relies on social media posts to tout the day's fresh seafood selections.
An area largely untapped for NC seafood sales is Charlotte, the nation's seventeenth largest city. That is changing in large part due to the efforts of Carolina Fish Market. Owner Jim Seidel, a former tire company executive, is bringing his social media and marketing expertise to the table to forge new sales opportunities, particularly among millennials. His market boasts nearly 7,000 Instagram followers and 15,000 on Facebook. Carolina Fish Market hosts twice-monthly sushi-making classes that create a lasting demand for sushi grade seafood products.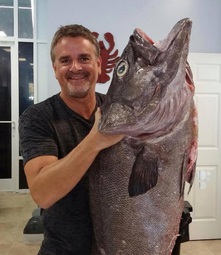 Jim Seidel, Owner
Carolina Fish Market • Charlotte
Sam McGann, owner and chef at the Blue Point in Duck, depends on the availability of fresh local sustainable seafood for his restaurant that opened in 1989 as the original farm-to-table eatery on the Outer Banks. Mother Nature guides his menu choices because seasonal foods are less expensive, fresher, more abundant, and he knows where they are coming from. To help control cost, he buys particular species when the harvests are at their peak which translates into lower the prices. He views the commercial fishermen as his partners and supports their efforts to continue to provide seafood to consumers.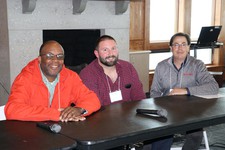 L to R: Chefs Ricky Moore, John May and Sam McGann
Frozen produce packager Seal the Seasons operations manager Bryan Cohn talked about his company's entry into frozen seafood. Partnering with Weaver Street Market in Chapel Hill, Seal the Seasons uses IQF freezing technologies to produce a superior frozen NC shrimp product. Each one-pound package carries the NC Catch and Got to be NC logos.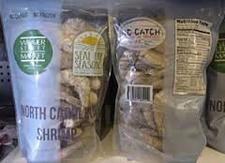 Custom packaged for Weaver Street Market
Seal the Seasons IQF shrimp straight from NC waters
"A Fish by Any Other Name" focused on the Dare County portion of a NC Sea Grant study to explore the consumer acceptance of spiny dogfish, also known as cape shark. Panelists included Cape Hatteras Secondary School teacher Evan Ferguson who led a cross-curriculum study on dogfish that included culinary students preparing a meal for faculty, students and staff. After the meal, each participant completed a survey and a majority rated the product as excellent. A series of similar taste testing events were held at Café Lachine in Nags Head. Food writer and taste test participant Jim Trotman found the dogfish to be quite pleasing particularly as a chowder.


"A Fish By Any Other Name: Putting Spiny Dogfish to the Test" Panelists
L to R: Jim Trotman, Evan Ferguson, Chef Justin Lachine and Dewey Hemilright
A session on the true economic impact of commercial fishing was led by Jason Gray of the NC Rural Center and Lee Nettles, executive director of the Outer Banks Visitors' Bureau. Both spoke on the importance of having a robust economic impact analysis that goes well beyond ex-vessel values, capturing the true sea-to-table value of commercial fishing.
Nettles shared economic impact data related to commercial and charter fishing and efforts to keep Oregon Inlet open. The county-commissioned study has been key to leveraging the funding needed to properly maintain the inlet. Nettles said the most important work is done on the front end by clearly defining the scope of work and selecting the right firm to conduct the study. Gray noted that a thorough analysis must also include the value of out-of-state landings by NC fishermen because those dollars come back to our state, buying real goods and services and paying their share of federal, state and local taxes.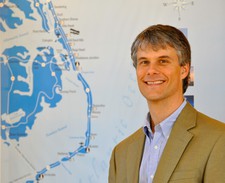 Lee Nettles, Executive Director
Outer Banks Visitors' Bureau
The high note of the summit was the final session called "Beyond the Docks" with panelists Ernie Foster, Tami Gray and Robby Midgett. The moving discussion brought many to tears as each talked about the inspiration they find in nature and the bonds of their coastal communities and the stewardship they feel for the resource that provides for their livelihoods. Gray said, "We are not killers, we are caretakers. I want the resource to be here for my daughters, their children, and their children's children."


Captain Tami Gray
Next year, the NC Catch Summit will be hosted by Brunswick Catch.