Meet NC Catch's newest board member Jason Hall
"The food's coming out of the local waters. It's being touched by folks here in the state. This is how they make their living. This is how we make our living."
Those were the words our new board member Jason Hall told Our State magazine in its June 2023 local-seafood issue. As Our State reported, "Ask the locals in Washington to recommend a seafood restaurant, and they're likely to point to an unassuming spot about a mile inland. With crab pots perched on the roof and oyster shells for mulch, Washington Crab looks like it was practically plucked from the surf. 
"Its cinder-block frame is draped with fishing nets and buoys, with pier pilings and a weathered wooden pelican out front. While there's no water in sight, this rustic restaurant brings something different to the table — seafood that is 100 percent locally harvested and handled, filleted and cleaned at Washington Crab's processing facility about two blocks from the Pamlico River."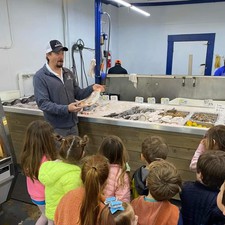 Jason Hall teaches school kids about local
seafood at Washington Crab in Washington, N.C.
"Established in 1972, Washington Crab serves eastern North Carolina restaurants, grocery stores, and farmers markets in addition to operating a catering service and a retail seafood market on North Pierce Street. Jason and his wife, Lindsay, who fell in love with North Carolina while he was stationed at Fort Bragg, took over in February 2020. They're the fourth family to own the company, which has been an anchor in the state's coastal seafood community for more than 50 years. 
"'Seafood's a big part of North Carolina, especially eastern North Carolina," Jason says. "To be a part of that — to have the name of the town in our company's name — means a lot to us.'"