How offshore wind will affect your seafood
Wind farms may be on the horizon off North Carolina as the nation moves toward clean energy, but their impacts on marine fisheries is unclear, leaving many worried.
During the recent N.C. Offshore Wind and Wildlife Solutions Summit, scientists, fishers, environmental advocates and others discussed the need for more studies, Coastal Review Online reported.
How will things like lighting installed on the turbines, construction to lay cables along or under the ocean floor and the speed at which turbine propellers turn affect the diverse species that have made waters off North Carolina some of the world's prime fishing grounds, summit attendees wondered. Both recreational charter boat businesses and commercial fishers depend on those waters. There was also concern about how farms might impact whales and coastal birds.
Commercial fisherman Dewey Hemilright said lack of information about the impacts to fish is "going to hurt us," Coastal Review Online reported. 
NC Catch board member Micah Daniels of Fresh Catch Seafood in Wanchese took to Instagram this month to express her concerns that wind farms could block access to waters crucial to fishers who bring in tuna, mahi, swordfish and other offshore fish.
Three areas off North Carolina targeted for wind development cover 110,000 acres. One, off the Outer Banks, is known as the Kitty Hawk Offshore Wind Project.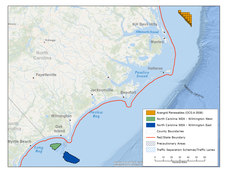 Two others in the south are billed Carolina Long Bay or Wilmington Wind Energy Areas (WEA). 
The U.S. Bureau of Ocean Energy Management calls the combined areas "the second major offshore wind lease sale this year..." 
"These areas have the combined potential to generate upwards of 4 gigawatts of power, the equivalent output of four nuclear power plants," Coastal Review Online said in its July 22 report about the summit. The Biden-Harris administration has a goal of deploying 30 gigawatts of offshore wind energy capacity by 2030, the U.S. Department of Interior has said.
Follow wind farm development off North Carolina at the Bureau of Ocean Management's website. Information is also available at the N.C. Department of Environmental Quality's website.