3 women making a difference in the commercial fishing industry
Women's History Month: Meet the women harvesting some of North Carolina's best seafood and working to protect the state's seafood culture and coastal enviroment.
The commercial fishing industry has long been dominated by men working boats and harvesting seafood while women staffed fish houses, seafood markets and seafood packing houses. Today, women are getting out on the water with their own boats and business savvy. These North Carolina women have a true passion for providing the best seafood, protecting the coastal environment and making sure local seafood makes it to your table.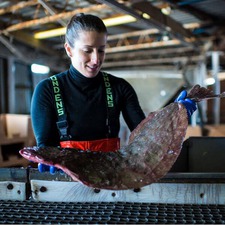 Micah Daniels
You might have seen Micah on National Geographic's "Wicked Tuna." She and her husband run Fresh Catch Seafood in Wanchese. A fourth-generation Outer Banks commercial fisher and fish monger, Micah comes from a family whose fish houses date to 1936. Micah has worked in the seafood business since she was a kid. She's crazy-busy but still finds time to teach people what it's really like to be a commercial fisher. Her Instagram posts @freshcatchseafoodobx are an education in gear, conservation and rules commercial fishers must follow. Micah shares lots of history, too. A member of the NC Catch board of directors, she is among the strongest, proudest voices for preserving N.C.'s commercial fishing heritage. "If you don't say something," Micah says, "you're soon not going to have anything to say something for."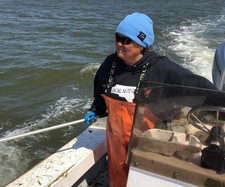 Vicki Basnight
Outer Banks commercial fisher and co-owner of famous Basnight's Lone Cedar Café in Nags Head, Basnight lives to fish. The restaurant she runs with her sister serves N.C. seafood, going so far as to name on the menu the commerical fishers who supply the catch. You'll see Vicki's name among them. She got her first skiff at age 10 and a fishing license not long after. Vicki operates her own soft-shell crab shedding operation at the restaurant. The Basnight family has long been devoted to preserving North Carolina's coastal water quality and commercial fishing culture, and making the connection between the two. Vicki's father was late N.C. Sen. Marc Basnight, who dedicated his life to community service. The family opened Basnight's in 1996 to draw attention to N.C. seafood and the plight of fishers whose livelihoods are undercut by imported seafood taken by harvesters who don't deal with numerous state and federal regulations applied to U.S. fishers. Basnight is a member of the NC Catch board of directors.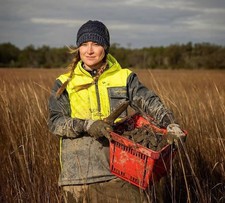 Ana Shellem
Fisher, amazing seafood cook and true inspiration, Ana is one of a small number of North Carolina commercial fishers who still harvest wild shellfish. Her typical day might start with an early morning on the waters around Wilmington, N.C., followed by driving the catch that afternoon to restaurants on the coast and inland North Carolina cities like Raleigh, Durham and Washington where chefs eagerly await the shockingly fresh catch. Ana turned chefs on to North Carolina mussels, a rich bite that tastes somewhere between a clam and an oyster. In 2021, she showed the public how to cook the mussels during a demonstration at the N.C. Seafood Festival. Her company, Shell'em Seafood Co., doesn't just provide markets and restaurants with seafood. On Instagram, @shellemseafoodco, Ana, a member of the NC Catch board of directors, teaches people what it's like to be a commercial fisher, from becoming HACCP certified to adhering to numerous fishing regulations and harvesting in a way that assures plenty of shellfish will be available in the future. The job is not easy, but as Ana said when winter 2021-2022 brought drastic tide, wind and weather changes every week, "I have to adjust. I have to change my approach. I welcome change, it has always made me stronger and better."