Black History Month seafood specials at Saltbox Seafood Joint
NC Catch chef ambassador Ricky Moore of Saltbox Seafood Joint in Durham celebrates Black History Month 2022  with seafood specials that tell important stories every Wednesday in February.
"I created this menu in celebration of Black History Month. And by that, I mean the Pan-African global influence of the Atlantic Slave Trade -- specifically where slaves landed in the New World. These dishes tell the story of how they influenced and interacted with the food and culture of these places. These dishes speak to the global influence African food has had on our food culture in the Americas, not just the United States," Moore told QSR Magazine.
The Feb. 9 feature is Bake & Shark,  a popular street and beach dish Moore said is common in Trinidad and Tobago. Moore noted that the slave trade put many Africans in the Caribbean, where African fishermen created Bake & Shark. "Bake" represents the pocket-style fry bread that holds fried shark plus garnishes like tamarind, pineapple and cilantro. Moore's version will feature North Carolina fish like Smooth Dog Shark or Dogfish and grilled pineapple.
Senegalese Fish Yassa is Moore's plan for  Feb. 16. Moore traces the dish to  Chicken Yassa, a traditional Senegalese dish of chicken smothered in caramelized onion sauce seasoned with mustard, lemon juice and fresh chilies served over rice. Moore plans to use rockfish, monkfish or a similar fish, whatever is market-fresh, for a version based on a whole-fish yassa the chef experienced during his tour of West African restaurants in New York City. He'll use Kay Rice from Craven County, N.C., where Moore grew up.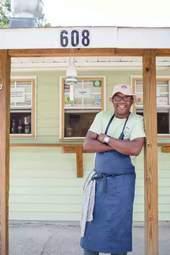 Most of yassa's flavor comes from all that caramelized onion, but mustard adds some tang and helps cut the onions' richness and sweetness. 
"A majority of the slaves who landed in South Carolina were from West Africa which I think most likely explains why when you order fried fish in South Carolina it's served with a mustard sauce. It all goes back to yassa!," Moore told QSR.
On Feb. 23, Moore will serve Moqueca Baiana, a classic Brazilian fish stew. Recipes vary from north to south in Brazil. Both versions include Spanish and Portuguese influences of garlic, tomatoes, cilantro, onions, salt and olive oil, but the the northern version also incorporates dende oil, or palm oil, indigenous to Africa, as well as coconut milk. Dende oil imparts rich flavor and color. "My version will use a variety of fish and shellfish, whatever I think looks good that day, and will be garnished with a chiffonade of collard greens cooked in olive oil, garlic and salt," Moore said.