Destined to become the best seafood market
Talk about an amazing story! Tyrone Hightower, owner of Apex Seafood & Market, is a go-to for everything you want to know about buying and cooking local N.C. seafood, but it was a wild ride to get there.
"How I ended up in the seafood business is what I would consider, a little bit of happenstance and destiny," Tyrone said. 
From inland Warren County, Tyrone grew up catching and eating freshwater fish like catfish, bluegill and crappies. After earning a N.C. State degree in animal science, he worked for 23 years as a veterinary assistant/technician doing everything from emergency care to exotic animal medicine that touched servals, sloths, kangaroos, fish, reptiles, skunks, pet primates and sea turtles. 
Along the way, Tyrone, who joined the NC Catch board of directors in December 2021, talked to many people who wanted fresh, reliable seafood but didn't want to travel all the way to the N.C. coast to get it. With a deep understanding of aquatic species, their nutritional value and how to determine superior seafood quality, Tyrone decided to fill the void.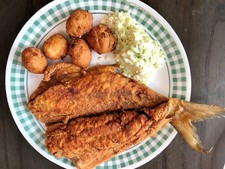 "My personality is wired, such that, I have an intense desire to try to solve a problem that has been presented to me, and to try to help individuals when asked and when I know that I can (ask anyone who has ever asked me where something is, in the grocery store, or any store, while I have been shopping for myself 😀)," he told NC Catch in an email.
Tyrone started building sources and driving to the N.C. coast for fresh, local seafood to sell at inland farmers markets. Apex Seafood, based in Apex about 15 miles southwest of Raleigh, is a mobile market where 90% of the seafood sold is local. Look for Apex Seafood at the Holly Springs, Apex and Midtown (Raleigh) farmers markets. The company also ships seafood via a link at the market's website.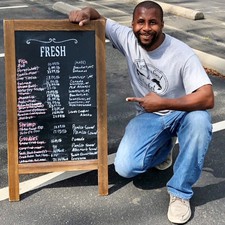 Selling top-quality N.C. seafood is just part of Tyrone's mission. He also fills the Apex website as well as its Facebook, Twitter and Instagram pages with seafood recipes and information about how different species taste and when they are in season.
When he's not working or fishing, Tyrone is often cooking seafood. Triggerfish, mild with a sweetness some people compare to blue crab meat, is Tyrone's favorite. 
"This delicious fish is actually, the only fish or seafood, that my 7-year-old son will actually eat. I prepare it with salt and pepper on each side, in a sauté pan, on medium heat with olive oil or butter in it, cooking 2 to 3 minutes on each side," Tyrone said. 
"I'm a minimalist, when it comes to cooking, and especially when it comes to seasoning seafood. I tell my customers that I actually want to taste my fish. If you are going to throw a lot of seasoning on your seafood, and not really appreciate the taste of your seafood, then you might as well just buy something cheaper, such as cod."