5-Course NC Seafood Dinner @ Mandolin
Date: 11 Jun Time: 6:00pm - 9:00pm Location: 2519 Fairview Rd., Raleigh, NC 27608 Description: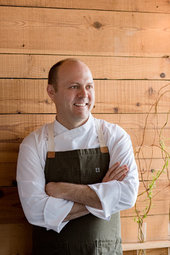 Chef Sean Fowler
Mandolin
On June 11th, Mandolin welcomes author Debbie for a dinner celebrating her newest book, "Carolina Catch," a 96-recipe cookbook from UNC Press highlighting North Carolina seafood.
Joining Chef Sean Fowler for this summer celebration of NC seafood and NC beer are Lin Peterson from Locals Seafood, Ricky Moore of Saltbox Seafood, Nate Garyantes of Mateo bar de tapas, and Jake Wood of 18 Seaboard for a 5-course, beer-paired dinner featuring seasonal beers from Bond Brothers Beer Company, Fullsteam Brewery, Brewery Bhavana and more.
Guests will hear from author Debbie Moose as well as from the talented chefs, organizations and brewers, and may purchase signed books at the dinner.
Proceeds from the dinner will benefit NC Catch, the organization committed to strengthening the state's seafood economy through promotion and education.