Crystal Coast Oyster Festival
Date: 25 Nov Time: 12:00pm - 8:14pm Location: Big Rock Jib, Morehead City, NC Description: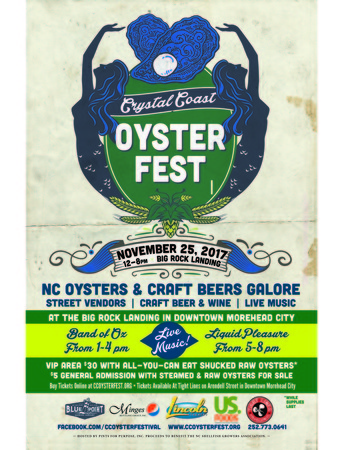 VIP tickets: Starting at $30
12pm- Festival and Vendors Open
1pm-4pm- Live Performance from Band of Oz
Groove to the smooth sounds of the iconic Beach Music band, Band of Oz. Performing since the 1960s, Band of Oz has paved the way for Beach Music worldwide.
5pm-8pm- Live Performance from Liquid Pleasure
This awesome live performance is sure to keep your feet moving. After more than two decades of bringing audiences to their feet, the band LIQUID PLEASURE, has become a multi-cultural icon. As they enter their 30th year, Liquid Pleasure has firmly established themselves as the South and Gulf Coast's premiere show and dance band.
8pm - Festival and Vendors Close
Events
2:00pm - 5:00pm
Beau Coast